Meet The Team
Hayley Walker
Travel Consultant
Hello my name is Hayley and I am the company Director at Holiday Hamster. I live with my husband, son and Bobby (our family dog) in Halifax where I have lived all my life.  We love spending time together as a family and often visit
Disneyland Paris
to make the most of our Annual Passes. This is where my love for Disney has flourished, and also has improved my knowledge of the park and surrounding hotels quite a lot. Alongside working at Holiday Hamster, I am a volunteer at Caudwell Children and have attended 5 of their annual Destination Dreams trip to Florida and am hoping to go back for a 6
th
year.  The trip is where they take 25 children with life limiting illnesses and their families on the trip of a lifetime to visit all the Disney parks and as a volunteer we simply help the families by guiding them around the parks or by pushing prams and wheelchairs or just simply being there as an outsider to listen to the parents whilst they talk. This trip has changed my outlook on life and I have some truly amazing memories that I am sure to cherish forever. So, as you have probably gathered I love all things Disney, especially Frozen (my new favourite). Music is also a huge passion of mine and although I don't play instruments or sing anymore, I still love to listen to a huge variety of music. I am very much a family oriented person, making family and friends very important to me.  Where possible, I always try to make time to visit family and friends and of course spending quality time with my own little family.
Seb Roulet
Travel Consultant
Hello, I'm Seb and I am a Travel Consultant for Holiday Hamster. I live in Ashford, Kent with my wife and 2 children. Living so close to Ashford International's Eurostar Terminal often sees us hopping on the train and heading to Disneyland Paris. I was born in Belgium and can speak fluent French and English. Prior to studying Leisure and Tourism Management at Swansea Institute in South Wales, I had worked as a ride operator for both Thorpe Park in Surrey and Disneyland Paris, which was a dream come true. After my studies, saw me go out in to the real world and follow my tourism path that led me to working for a hotel Wholesaler in London, a hotel in Brussels and, more recently, 6 years at Eurostar. I have a great passion for the Tourism Industry and enjoy nothing more than to search and book holidays and flights for my friends and family and will relish the challenge to do this at a much greater scale. My spare time often sees me spending it with my family and going on family days out and I am also a keen runner, who participates in 10 km runs and half marathons around the UK and Disneyland Paris. I am also a keen gamer, and enjoy my Xbox time, as well as going to the odd Football or Rugby match when I can. That's pretty much everything about me, I will now look forward to meeting all of you.
Ellie Steadman
Travel Consultant
Hello! I'm Ellie and I'm a Travel Agent at Holiday Hamster. I live in Essex, quite close to London, where you will often find me going to see a show or seeing what is new at the Disney Store! I'm a huge Disney fan and like many grew up watching the movies, wishing I could be a Disney princess, learning all the songs and longing to visit the
Disney Parks
. I didn't make it over to one of the theme parks until I was 14 years old, but one visit was all it took to get me hooked and now I like to visit as often as possible. My favourite Disney Movie is Beauty and the Beast, Magic Kingdom is my favourite Disney Park and I'd love to one day try out a Disney Cruise! I love nothing more than booking, planning and going on trips to the Disney parks, being able to do this for others whilst working at Holiday Hamster is something I am absolutely loving doing! I've visited the Disney Parks a lot over the last few years and have gained a lot of knowledge on all aspects of visiting the parks, so once you've booked your trip I'll be able to help you make your trip the most magical one possible. A big part of my life is my YouTube Channel where I share vlogs of my life and my trips to Disney, videos about things I'm loving or passionate about, as well as videos of Disney tips and tricks. I've been making videos for about three years after progressing on from a beauty blog. YouTube is now such a big part of my life that it feels strange if I do not have a camera in my hand to share what I'm up to so I can document my life online. Making videos and sharing them with others  is one of my biggest loves and I'm so grateful that I took the leap to start doing it! I'm also a big fan of musical theatre, eating lots of pizza and spending time with my super fluffy dog. I'm a family and friends oriented person, and love spending time with the people that mean the world to me.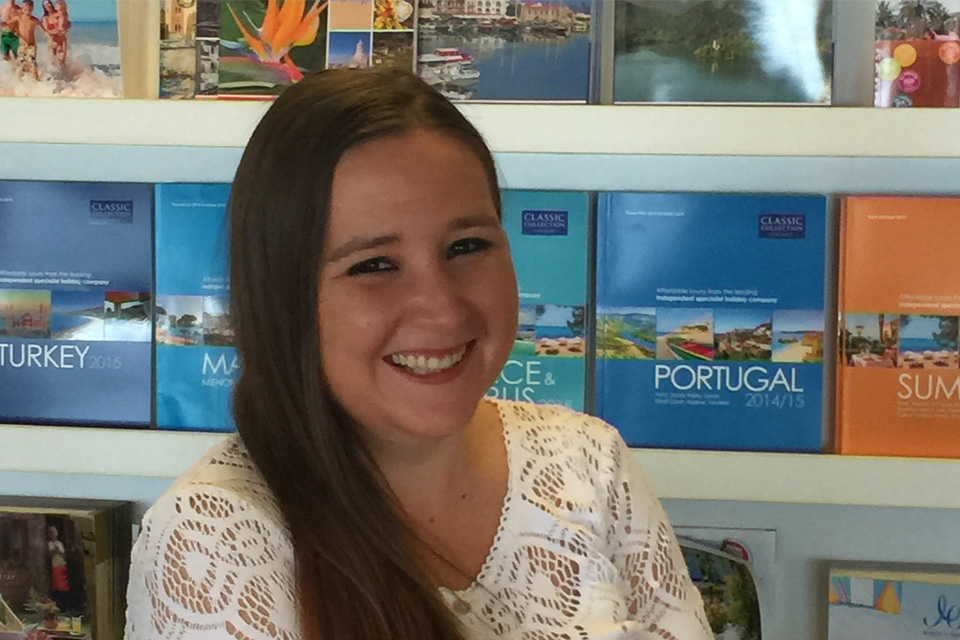 Simone Wilson
Travel Consultant
My name is Simone and I'm a travel consultant at Holiday Hamster…I was born in Johannesburg South Africa and lived there until I was 18 when I finished school. A gap year seemed like a good idea, so I packed my bags and said goodbye to sunshine and that's how I ended up in Halifax, West Yorkshire. Nearly 9 years later I think it's safe to say I'm happy here and settled in nicely. I have spent the last 8 years in the hospitality industry and although I thoroughly enjoyed it I felt it was time to work with the public in a different way. So a few things about me…I'm very happy go lucky with a general positive outlook on life after all life is a journey…may as well make the most of it while I'm here. I love spending my spare time with friends and family, whether it be in the pub with a drink or two, or vegging in front of the TV with a good movie (with popcorn and chocolate of course). Music is another love in my life, I don't really have a favourite type, and I like anything that sounds good (more variety that way, I think) the ideal escape for me is most definitely going to a live concert and getting lost in the music as well as the show. So I've kept it short and sweet but that's me in a nutshell, to the point!!!